Want to avoid writing certificates by hand and enjoy your event?
With our system it becomes possible! All you have to do is enter the event information and the list of participants, and the certificates will be generated automatically and sent to the participants after the event.
Save up to 90%
Su epažymėjimas.lt sutaupysite iki 90% savo laiko ir pinigų, skirtų renginio administravimui.
Paprasta naudotis
Keliais paprastais žingsniais sukursite renginį su dalyvių registracijos forma, o po renginio vienu paspaudimu išsiųsite pažymėjimus dalyviams.
Patogu dalyviams
Nelieka eilių atvykus į renginį. Visus savo pažymėjimus dalyviai gauna ir saugo vienoje vietoje bei pasiekia 24/7.
Patogus ir efektyvus renginių tvarkymas su epažymėjimas.lt
Take advantage of up to 90% administration cost savings and reliable, fast and easy event management functions by using Epazymejimas.lt
Benefits for organizers
With epazymejimas.lt you will save up to 90% of administration costs, as you will be able to easily and quickly:
Register participants for your event (seminar, conference, etc.);
Register the participants at the venue;
After the event, at the click of a button, e-mail send certificates to all participants by mail;
Create and send certificates to the participants of the previous event;
Easily correct or cancel certificates;
Promote your brand through participant referrals.
Benefits for participants
Epazymejimas.lt is not only useful for the organizers, but also for the participants, because they can:
Have all your certificates in one place - on your mobile phone or computer worldwide 24/7;
Quickly and easily share your credentials with employers, colleagues or potential employers, thus demonstrating your qualifications and competence;
Increase your career opportunities, as more and more employers require various certificates and certifications;
Our success rates
150+
organizers that issue certificates via our platform
500,000+
issued certificates
35,000+
users that keeps all their certificates in our platdorm
7
metai patirties randant geriausius sprendimus organizacijoms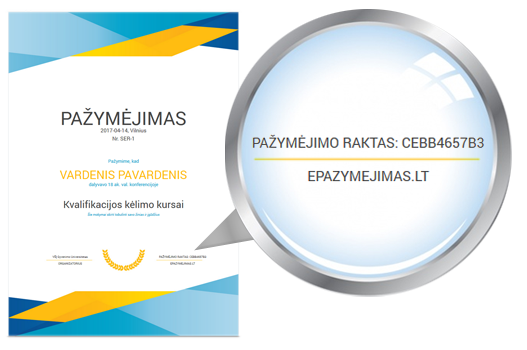 Attended a conference or event?
Get a certificate confirming this on your computer or mobile phone! Share it with your employer, friends, colleagues, add it to your LinkedIn profile and it will never gather dust in a drawer!